Welcome to Antlion Farms!
Hi, My name is Artie!
I am an antlion, and I'll be your host on Antlion Farms. If you are wanting to learn all about antlions and purchase antlion kits then you have come to the right place.
What is an antlion you ask? 
I'm not an ant, and I'm not a lion. Have you ever heard of a "doodlebug"? A doodlebug is actually an antlion in the larval or baby stage. We get the name antlion because we are voracious predators of ants and other insects.
Do antlions make good pets?
Antlions are some of the coolest insects around. When you have an antlion for a pet, you get a front row seat to one of nature's wildest battles. It's Survival of the Fittest, Baby! And antlions rule! Antlions are not only entertaining, but also very educational. You can learn about how insects think, learn, and respond to their environment. If you are looking for a pet that is easy to keep and entertaining for the whole family, then maybe ant lions are for you!
LEARN HOW THE ANTLION HUNTS FOR FOOD
+1 877-332-8706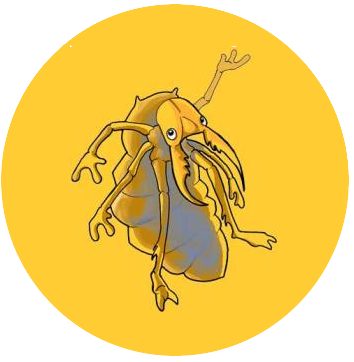 Ian Skelley has been providing customers with antlions for 20 years.
Ian originally started with the idea of selling antlion zen gardens on Ebay. The goal was to expose people to the wonderful world of the antlion. Since the beginning, we have had customers such as the Smithsonian, colleges, and grade schools. People have even written books about our antlions.
What started as a fun little project has turned into a small family business.  A few years ago, his nephew Hudson and niece Jenna began working with him.  Today they run most of the day-to-day operations of the business.  Their goal is to help you have the best experience with your antlions!
We have not changed shipping cost in a long, long time .. if ever. The reality is that it cost more for us to ship most orders than we collect in shipping fees. I have resisted for a long time making any changes. However, I have decided to make an adjust at least for...
Artie's Guest Book
We love to hear from our customers!!! Just click below and send us a message about how your antlions are doing.
2 entries.
We bought 3 ant lions 1 year ago. One has gone the distance and we believe the other 2 were eaten by the one. Ours just pupated and has sick wings,but we're feeding it nectar and nursing hopefully to good health. We bought on holiday and seller was responsive. Would do business again. Thanks
We received our antlions and they were still. As it said in the care instructions, they were apparently just playing dead because they soon got to work and all had their cones set up by the end of day. They all arrived alive. This is really cool. If you are curious about antlions, I highly recommend getting them. My 10 year old loves insects and is fascinated with them. The setup and continuing care for the antlions is incredibly easy.